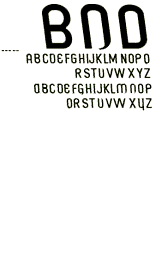 A clean sans serif font. Actually it still in progress but it will be finished soon. It will be more versions of this font, a family. The one you see here is the regular version. This font really looks great.

O O O buy the fonts make that more fonts appear , and eventually it´ll improve the site, so please buy any.

O O O If you buy a font and it gets updated later you will receive the other(s) version free.
-------------------------------------------------------------------------------------------------------------------------------------------
GALLERY TYPE DESIGN LINKS INFO GUESTBOOK!! MORE... --------------------------------- HOME ------------------------------------------------------------- E-MAIL) 1999 © Copyright by germán olaya. [typo 5] All rights reserved.))))---------------------