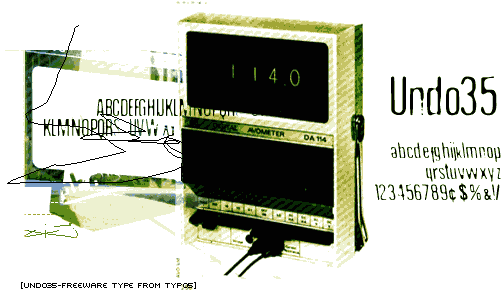 ok. a light compressed font, made as an exercise to learn the software, but anyway it still can be useful. This font has some imperfections on the edges that make it look good. Comes in two styles.

O O O Designed by Germán Olaya.

O O O This font is free but not public domain. Don´t redistribute without my permission. Please read the legal stuff... and sign the guestbook!
-------------------------------------------------------------------------------------------------------------------------------------------
GALLERY TYPE DESIGN LINKS INFO GUESTBOOK!! MORE... --------------------------------- HOME ------------------------------------------------------------- E-MAIL) 1999 © Copyright by germán olaya. [typo 5] All rights reserved.))))---------------------